MAME Cabinet
Here is a picture of my MAME machine which not only plays arcade games, it can also play thousands of emulated console games like Atari 2600, Nintendo/Super Nintendo, Sega Genesis and many more.
It also plays MP3's of all my favorite 80's songs and some of my favorite metal songs as well. My machine rocks!!!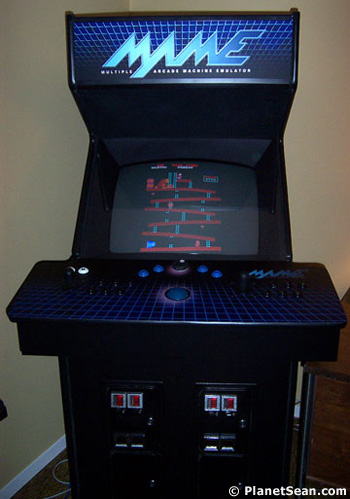 Below are the current specs of my MAME machine. I'm always upgrading things on my machine, so check back often to see what's new and exciting.
Hardware
Cabinet: Modified Teenage Mutant Ninja Turtles.
Monitor: 25″ Ergo monitor.
Computer: Intel Core 2 Duo 2.33 GHz Processor, L2 cache – 4 MB, 4 GB RAM, two 300 GB hard drives.
Software: Windows XP Pro SP2 and MAME32
Interface Hardware: J-Pac and Opti-Pac.
Sound System: PC subwoofer/amp, two 6″ co-axial speakers.
Controls: Two Happ 8-way joysticks, 12 buttons, one 3″ Trackball, one Optical Spinner.
Custom Graphics: Designed by me in Photoshop.
Emulated Games: Over 12,000 counting all the console stuff.
Jukebox: Plays MP3s, select songs with the joystick or trackball.
Note: Detailed document coming soon of how I made my MAME machine.
Page last updated on November 25, 2007.