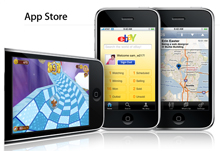 Apple's iPhone Apps Store approval process clearly has some bugs to work out. Apps will be approved, and then pulled. Some bad apps remain in the store, while others aren't approved at all.
The latest casualty is an application that, well, I probably shouldn't publish what it does here in the first paragraph, but Beavis and Butt-head would have loved it.
The rejected application is called iFartz. I think you can figure out for yourself what the application does. The rejection letter was sent to the application's developer by an Apple employee named Victor Wang.
According to The Unofficial Apple Weblog, Mr. Wang is "a near legend for his rejection letters, usually long, delayed, and for aesthetic reasons that leave developers blinking with surprise."
But, really. Is anyone surprised that an application called iFartz, which has what Apple called "limited utility," wasn't approved? I'm not surprised. Much.
TUAW writer Erica Sadun calls iFartz "a simple, stupid joke app … but it's the kind of simple, stupid joke app that a lot of people would download and use because people like simple, stupid joke apps."
The author of iFartz has taken his case online. He set up a Web page begging (and scolding) Apple. On that page, he wrote:
"Sure, the App Store makes it nice and easy to find, purchase, and install iPhone applications, but is it worth the cost of a single authority telling us what they think adds utility? Ironically, if 'limited utility' was a factor by which we judged all software development, Mac OS probably would have died in the '90s. At the very least, we can show Apple they're wrong, that there's a demand for Pull My Finger. Join this campaign pledging to spend up to $0.99 cents if PMF is accepted to the iTunes store."
But Sadun says it better. She writes:
"Until Apple offers developers a firm set of guidelines, developers will continue to be ticked off by seemingly arbitrary rejections like this one. Apple needs to step forward, and do so soon, with a clear set of guidelines that explain to developers exactly what to expect when they press that 'submit' button for their new app. Developers shouldn't be wasting Apple's time with unpublishable software. Apple should not be wasting Developers' time with a secretive and arbitrary review process."
Until Apple does send out a usable set of guidelines for developers, we'll have to abide by its sense of what's good and what isn't, rather than let us determine for ourselves.
Apple, can't you let the free market decide?
This entry was posted on Friday, September 5th, 2008 at 6:09 am and is filed under Apple, Open Source, Software, Technology. You can follow any responses to this entry through the RSS 2.0 feed. Both comments and pings are currently closed.