The basic home screen of a Windows Mobile 6.1 device gives you a nice overview of your recent missed calls, messages, calendar appointments and other items.
Looking at a recently-granted patent, looks like Apple may be taking a page from Microsoft's playbook.
The "today" screen in Windows Mobile is one of the better features of the OS, especially in the 6.1 version of Windows Mobile.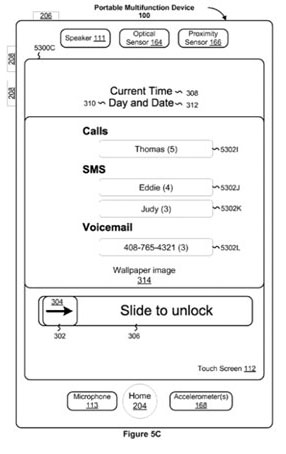 At a glance, you can see what you've missed while you weren't minding your phone, and what you might still have to accomplish in a given day.
MacRumors saw a patent that was granted to Apple, and the drawings accompanying the patent clearly show an "at a glance" style screen on the iPhone. MacRumors reports:
"The proposed screen would allow users to quickly jump to the desired notification simply by pressing on the corresponding notification. At present, the iPhone's notification lists is a list that disappears when the phone is unlocked. This sort of notification system may become more important once 3rd party 'push' notifications are activated, as the number and variety of these notifications will likely increase significantly."
The idea of being able to see a list of all your missed calls and messages is not privy to just Windows Mobile. Nokia's S60 platform can be set up to provide a similar display of notifications.
I think this would be a welcome addition to the iPhone's software. If and when it will ever be included in a future firmware update is unknown.
This entry was posted on Friday, September 19th, 2008 at 6:42 am and is filed under Apple, Technology, Toys & Gadgets, Wireless. You can follow any responses to this entry through the RSS 2.0 feed. Both comments and pings are currently closed.