The Atari 2600 has been added to the Strong National Museum of Play's toy Hall of Fame list, an honor it richly deserves.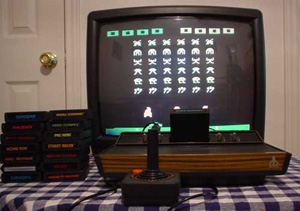 It's actually the first electronic toy to make the list, which includes classics like Mr. Potato Head, marbles, checkers, and Barbie.
Museum curator Patricia Hogan said:
It may look primitive compared to the advanced video game systems available today, but it helped make these possible.
Damn straight, people. Know your roots.
Joining the 2600 on this year's list of inductees were the kite and Raggedy Andy, though Raggedy Ann actually made it five years ago.
What's that about? You let in Ann but Andy has to wait? Laaaaame.
This entry was posted on Friday, November 9th, 2007 at 9:19 am and is filed under Atari, Gaming. You can follow any responses to this entry through the RSS 2.0 feed. Both comments and pings are currently closed.