Belkin's latest power-strip adds a very smart feature for travelers: USB ports. The strip has a couple of charge-only sockets along with the three-way mains AC extenders and even comes with a mini-USB cable, obviating the need to carry chargers for most gadgets.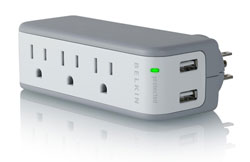 The $25 box also squeezes in a surge-protector for those untrustworthy hotel power outlets. Taken from the product page:
Hotel rooms and airport terminals never seem to have enough power outlets to charge all the devices today's traveler brings along. Now you can add outlets and peace of mind on business trips and vacations with the Belkin Mini Surge Protector.

This new design features three AC outlets and two powered USB outlets – perfect for MP3 players and mobile phones.
Something to note, the USB outlets cannot be used as a USB hub and does not transmit data. The powered USB outlets on this unit are intended solely for charging devices that can be charged via a USB interface.
Check out the product page for more information. I've already ordered two
This entry was posted on Tuesday, March 11th, 2008 at 8:02 pm and is filed under Technology, Toys & Gadgets, Travel. You can follow any responses to this entry through the RSS 2.0 feed. Both comments and pings are currently closed.