Archive for the 'Toys & Gadgets' Category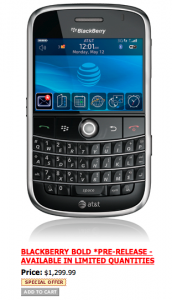 An enterprising company with a retail location in mid-town Manhattan managed to get its hands on five pre-release versions of the much-coveted BlackBerry Bold.
What did it do? Put them up for sale, naturally. The price tag? A staggering $1,300.00 USD. For that, you get a phone that may or may not be fully optimized forAT&T (NYSE: T)'s network.
The BlackBerry Bold, RIM's next-generation smartphone, was supposed to go on sale back in July. Then the date was pushed to August. The initial reason behind the delay was supposed network-related issues.
Here we are in September, and still no BlackBerry Bold.
At this point, no one appears to know exactly when the device will officially hit the streets. Some reports suggest that it will be early October before we see it. That is, of course, unconfirmed.
Despite its lack of official availability here in the US, it has gone on sale in Canada and elsewhere and, some how, the New York BlackBerry Center got its hands of five of the smartphones over the weekend.
The company, located in the Time Life Building on 6th Ave at West 50th Street in Manhattan, decided to sell their stock at a price only a banker could afford.
It sold all five for $1,300.00 USD each. Wow. That's a heck of a mark-up. To those five who purchased them, good luck with your pre-release hardware!