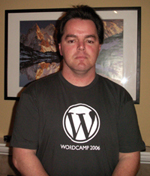 Well Christmas is coming to a close and I figured why not do a Christmas 2006 wrap up post.
This is the first year we're not with other family members and it's actually ok with us… nice and relaxing without all the "family fun" and bah humbugs
In the picture, you can see I'm wearing my WordCamp 2006 shirt and yes before you comment, I know that I'm not smiling in the picture… I was barely awake and I'm sporting my Don King morning hair. At least I'm upright and have a shirt on.
Ok, on with the post… for gifts I received the following (not in any special order):
Handmade scarf (gray in color)
2007 Ford Mustang wall calendar
Tripod for my camera and video recorder
Trivial Pursuit DVD Pop Culture Board Game
RC car parts (tires, chrome rims, alignment tools, foam inserts)
2007 "Far Side" comic desk calendar
Black & Decker Auto Wrench
2 shot glasses for my ever growing collection
Duracell Pen Light (with batteries included)
A wide variety of boxer shorts with fun messages on them
Woppers candy
Reeces Pieces candy
$100.00 USD Visa gift card (w00t. time to buy some clothes)
Lubriderm Daily Moisture Lotion (perfect for cold weather)
One of the shot glasses says "Hawaii" on it and the other one has a sexy girl posed on it. Hubba hubba.
A couple of the fun messages on the boxer shorts are:
"You shook me all night long" and "I'm smart but I work with nuts".
Good times. I'm looking forward to wearing them around the house.
Around 1:00 PM we finally made some food for breakfast… ok, a late lunch… we made scrambled eggs with shredded cheese, an entire pound of bacon (I love bacon) and toast with butter and jelly.
All and all it's been a pretty nice and relaxing low stress day. I plan on taking it easy over the next couple of days as well. I put in a ton of hours for work and personal projects, so now I'm taking some time for myself and my lady… and the dog too
I hope everyone is having a Merry Christmas and a happy holiday.
For those of you who don't celebrate Christmas, I hope you're having a good day as well.
This entry was posted on Monday, December 25th, 2006 at 9:45 pm and is filed under Memories, Photography. You can follow any responses to this entry through the RSS 2.0 feed. Both comments and pings are currently closed.