Someone who goes by the nickname "blueblythe" on the Craftster Community website thought it would be a good idea to sew a complete Nintendo gaming system: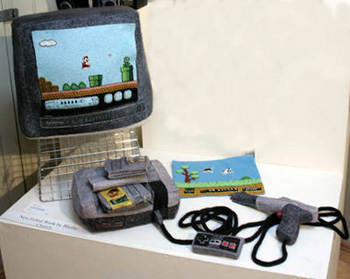 You can click the above picture to see more up close and personal pictures of this embroidered plush Nintendo system.
Apparently Blythe Church hand dyed the felt, hand sewed it and embroidered all the details. It took her 2 full weeks to create this geektastic masterpiece.
The felt Nintendo system has an opening cover so that games can be put in and removed and she even made felt Mario 3 and Duck Hunt games: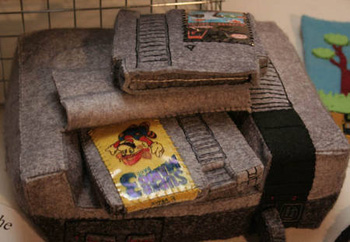 Who knew that crafting people came up with such cool geeky stuff? I've seen some cool things before but this Nintendo system takes the cake.
Hat tip to Blythe Church for making some cool stuff out of felt.
Since I've now got Nintendo on the brain, it's time to dig my Nintendo (NES) system out of the garage so I can play some Mario 3 and Duck Hunt.
This entry was posted on Sunday, September 30th, 2007 at 4:52 pm and is filed under Gaming, Nintendo, Photography. You can follow any responses to this entry through the RSS 2.0 feed. Both comments and pings are currently closed.