Raphael of raphnet.net decided to take NES Super Mario Bros practice to a new level by dedicating a NES console to run the arcade version full time.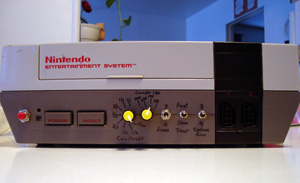 This is more than merely a MAME ROM loading exercise, there are several differences between the NES and it's dedicated arcade sibling, the Unisys VS.
Memory was upgrade, several IO pins are tapped and brought out for manual access via the newly added controls up front.
Check out his detailed specifications and project notes of this geektastic hack.
This entry was posted on Sunday, April 29th, 2007 at 1:38 pm and is filed under Gaming, Geekery, MAME, Technology. You can follow any responses to this entry through the RSS 2.0 feed. Both comments and pings are currently closed.