The Guitar Hero III demo is now available on Xbox Live, though you may have already tried it if you picked up Tony Hawk's Proving Ground or the December issue of Official Xbox Magazine.
You may even have downloaded a less-than-legal copy from various websites last week, though I don't encourage such behavior. Yarr.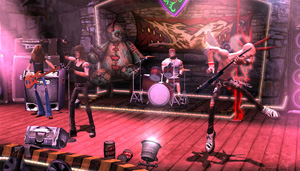 You don't need a guitar to play the demo, but obviously it's more enjoyable if you use one.
The demo includes five songs:
Lay Down (Priestess)
Rock You Like a Hurricane (Scorpions)
Even Flow (Pearl Jam)
Hit Me with Your Best Shot (Pat Benatar)
The Metal (Tenacious D)
Guitar Hero III is going to be one of the best selling games of 2007 I believe. Thoughts?
This entry was posted on Tuesday, October 23rd, 2007 at 10:17 am and is filed under Gaming, Software, Xbox 360. You can follow any responses to this entry through the RSS 2.0 feed. Both comments and pings are currently closed.