Well today was my first full day in Portland, Oregon and so far this place is great. People always say it rains non-stop but so far it's been clear blue skies with a nice breeze blowing, so my thought is the locals from Portland just tell native Californians like myself it rains a lot so we won't move here. Yeah, whatever. I love it.
I've been taking a ton of pictures and I still have 7 more days till I go back home, so I'll be posting a lot. I'm posting smaller versions of the pictures to help on load times but at some point, I will post full size images to my photo gallery once I get it going on the site.
Ok and now on with the photos… first up is a picture of the Inn that I'll be living at for the next 7-10 days. It's an amazing place.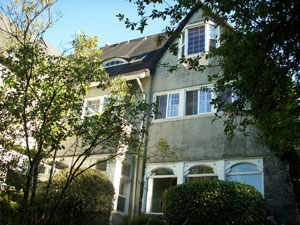 The room at the Inn is so nice. It has a view (pictures to come), a huge jacuzzi tub which I'll be using soon as I'm done with this post and a very comfortable bed. I slept like a rock last night. It also has in-room wireless internet.
Next up is a photo from a local gift shop called Wham. Where else can you find Moses and Jesus action figures? People in Oregon seem to have a sense of humor like me: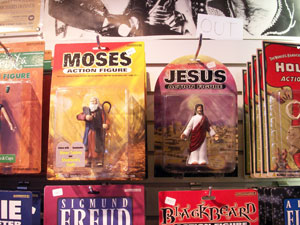 Also at this great novelty store, they had a Goonies lunch box, so I had to get that as well with my personal Dashboard Jesus: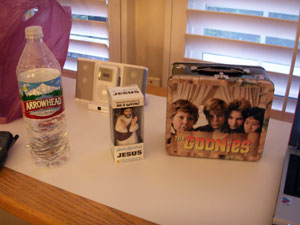 While walking around the streets of Portland I came across this crazy sign with a person taking a nose dive on a bicycle: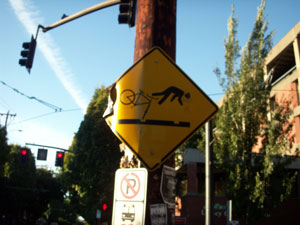 And last but not least, I'd like to thank the nice people of Portland, Oregon for providing free wireless internet so I could post these wonderful pictures: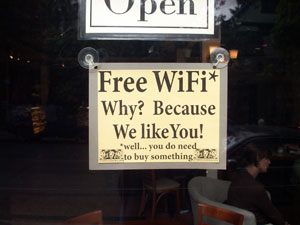 Of course I have a lot more pictures to post but for now, it's off to the jacuzzi tub to relax.
This entry was posted on Thursday, August 10th, 2006 at 8:54 pm and is filed under Photography, Travel. You can follow any responses to this entry through the RSS 2.0 feed. Both comments and pings are currently closed.