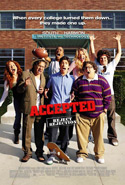 This evening I went out to the movies and saw Accepted. A lot of people said the movie would be dumb or boring.
Well let me tell you this movie was really funny, it moved at a nice pace and if you've ever gone to college or know someone who might be going to college, this movie is a must see for sure.
The movie Accepted does have a lot of childish humor and will most likely appeal to guys more then women, but I do suggest seeing it anyway, besides I did see it with two girls, both of which said "oh, this is going to be dumb" but laughed through out the entire movie and in the end really liked it.
I personally feel that the official movie critics don't do it justice.
The plot outline:
Bartleby Gaines (Justin Long) gets rejected from every college to which he applies, so he starts his own, the South Harmon Institute of Technology in an abandoned mental hospital to keep his parents and those of his equally academically challenged friends off his back but when one of his buddies (Jonah Hill) puts up a fully functional web site for the university, Gaines finds his fake school filling up with real students.
The university's "founders" soon implement a curriculum of skateboarding and partying and of course, find themselves battling the stuffy, all-business dean of the real Harmon University (Anthony Heald) and his golden boy toadie (Travis Van Winkle).
This movie is every high schooler's dream: going to a college with courses like Preparing the Perfect Slurpee, Motorcycles in the Swimming Pool, Slacking 101, 201, 301, 401. Majoring in tank tops or heavy metal and even how to blow stuff up with your mind.
I really enjoyed this movie and I'll be sure to purchase the DVD when it's released.
This entry was posted on Saturday, August 19th, 2006 at 10:36 pm and is filed under Humor, Movies. You can follow any responses to this entry through the RSS 2.0 feed. Both comments and pings are currently closed.