Today marked the official launch of the Opera Mobile 9.5 beta browser. I have been waiting for this beta program for a long time now, and as soon as the beta became available, I rushed to the Opera web site to download the browser.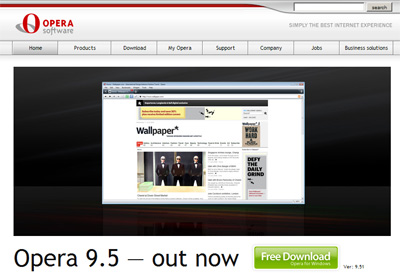 From today's press release, we know that Opera Mobile 9.5 beta now defaults to page overview mode, allowing the user to view the entire Web page and instantly recognize the Web site. With panning and zooming options, the user is able to focus on specific page content. Opera also introduced a new user interface for easier navigation.
Here's a list of some of the improvements you'll notice over Opera Mobile 8.65:
Faster – Opera Mobile 9.5 beta continues this fine tradition with improved performance over Opera Mobile 8.65.
Pan and zoom – Just like Opera Mini, Opera Mobile 9.5 beta defaults to full Web page viewing and allows users to pan and zoom into their desired content easily.
Improved user interface – Opera has completely renovated its mobile UI. Cleaner and more intuitive, the new UI is designed for quick and easy navigation.
Opera Dragonfly – Use your Opera desktop browser to debug sites on your mobile phone through the Opera Mobile 9.5 debug menu.
Improved standards support – Opera Mobile 9.5 is the most standards compliant browser available, and the company remains steadfast in its commitment to make the Web accessible for all.
Save pages and/or images – With a click, simply save pages to your phone.
This last point is a nice touch to add. I often want to be able to save images I see on the Web. Being able to do so on your phone (where I happen to spend a lot of time browsing) is an unexpected added bonus.
This entry was posted on Thursday, July 17th, 2008 at 10:42 am and is filed under Software, Technology, Wireless. You can follow any responses to this entry through the RSS 2.0 feed. Both comments and pings are currently closed.