I've been looking through my digital pictures that I've been taking while on vacation in Oregon and wanted to share some of the random geek type pictures I took while driving around and getting lost on small two lane roads.
Here is a photo of an interesting door lock at a local Portland, Oregon bank. That's right, if you need to get into the bank or use the ATM machine after hours, you'll need to use your ATM card to unlock the door: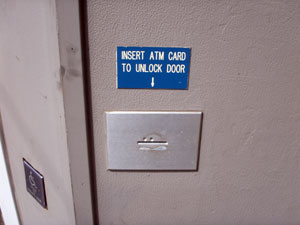 Driving down some random street in Aloha, Oregon, I notice a familiar technology logo for a processor company. Yep, Intel's Aloha Campus: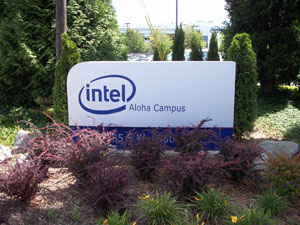 While in Oregon, I noticed that gas stations don't want you pumping your own gas which seemed weird to me because I've always pumped my own gas. When I asked the gas station attendant about this, he said it was because of safety issues. Interesting indeed. I did snap the photo of the sign below on the gas pump at the Arco gas station while filling up, so maybe this is the safety issue he was talking about?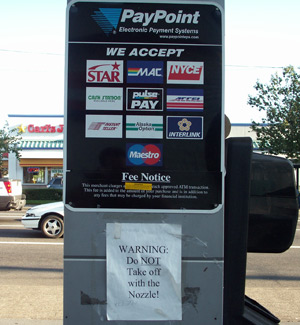 Most of my friends know that I love classic video games and I even own a few full sized classics myself, so after getting gas at the Arco, we went to a total ghetto arcade called Wunderland. What was really cool was every game took nickels, so basically 5 cents per game. A few did require 3-7 nickels but it was still really cheap to play games.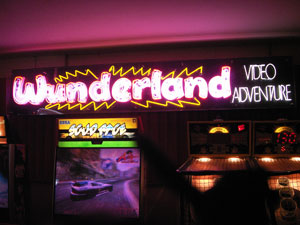 Next up is a picture of a space age looking pay phone. I've never seen one shaped like an egg or green in color for that matter but now everyone can see one because of the photo I took below: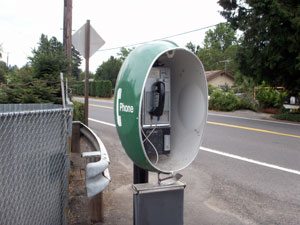 Last but not least is a photo of me next to a yellow road sign which reads "ROCKS".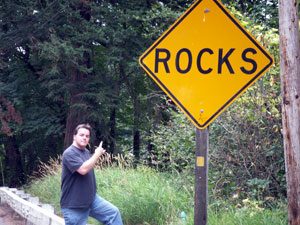 This entry was posted on Wednesday, August 16th, 2006 at 4:08 pm and is filed under Photography, Travel. You can follow any responses to this entry through the RSS 2.0 feed. Both comments and pings are currently closed.