On June 30, 2006 I posted about spending time with family, friends and playing with my Radio Controlled Cars and of course I had my digital camera in hand to take a few pictures.
As seen in the pictures below, we went out to the Pasadena, California Rose Bowl parking lot for a nice wide open space to race the cars around without crashing into anything or anyone. Yes, it does happen. A couple years ago I broke my right front wheel off in the first 5 minutes of racing when I smashed into the curb on a small residential street, so now it's all about huge parking lots.
In the first picture, you can see the Rose Bowl has a huge American Flag hanging below the sign to celebrate the 4th of July. America is celebrating 230 years of freedom and our independence: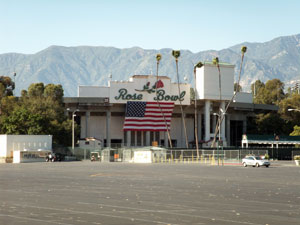 In the next picture you can see my fast car. I think the top speed for it is around 45 miles per hour. It's 4 wheel drive. Woot. The 10 turn electric motor really makes it fly. Gas powered or Nitro powered cars to me are a lot more maintenance: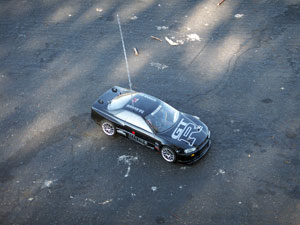 Last but not least in the next picture you can see me off roading with my truck kicking up a nice dirt cloud. I was doing donuts and jumping rocks. It was a lot of fun. My truck could use a new motor for some needed increase in speed but for now the 15 turn motor works just fine: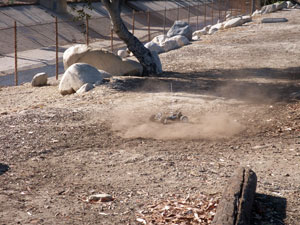 As a side note, the weather in Pasadena was in the low 100's. Yeah, it was very hot. The motors were running really hot so we had little fans to blow on them in between switching out battery packs.
This entry was posted on Tuesday, July 4th, 2006 at 12:43 am and is filed under Photography, Toys & Gadgets, Travel. You can follow any responses to this entry through the RSS 2.0 feed. Both comments and pings are currently closed.