Ever since that trip to England, things just haven't been the same. I mean you just can't get any decent fish and chips around here.
No problem. Get your own inflatable Port-a-Pub. It's constructed to an "Olde Worlde" English pub design with "superb attention to detail."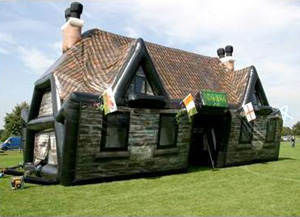 The inflatable boasts a pan tiled roof effect, chimney pots on the exterior, an Inglenook fireplace and a stone-wall effect in the interior.
Billed as "the world's first inflatable pub", this pub in a box holds up to 50 guests (or 200 college students), fits in the back of a van and assembles in under an hour: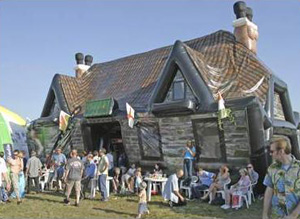 Why add an extension to your house when you can buy a portable pub that travels with you?
All pub-like features are painted directly onto the anti-fungal and flame retardant PVC walls so there's no need to worry about unruly guests breaking paintings or windows.
You might want to watch out for guests trying to carve their names on the "wood" beams: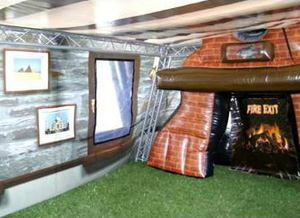 I'll have a pint of Guinness and an order of fish and chips please: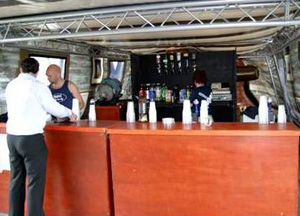 All you need now is a bouncy castle attached.
Your kids birthday parties would suddenly draw quite the crowd… bouncy castle for the kids, portable pub for the adults.
If you'd like to find out more, check out the Portable Pub website.
This entry was posted on Wednesday, March 7th, 2007 at 10:21 am and is filed under Food, Geekery, Travel. You can follow any responses to this entry through the RSS 2.0 feed. Both comments and pings are currently closed.