This morning I decided that a trip over the bridge and up the Interstate 5 Freeway was in order for a road trip to Seattle, Washington. Enterprise rent-a-car was nice enough to give me unlimited mileage in Oregon and Washington, so why not a road trip right?
As I've been doing pretty much this entire trip, I took a bunch of pictures today while in Seattle. Since it took almost 3 hours one way to get into Seattle and I need to be back in Portland tonight, there was only enough time for one stop which was the Space Needle.
The first picture is the view looking up at the Space Needle. This beauty stands at 605 feet high and has an elevation of 730.25 feet above sea level.
Built in 1962, the Space Needle served as the symbol of that year's World's Fair. It has since become the symbol of Seattle and one of the most recognizable structures in the world. The privately owned Space Needle is managed by the Space Needle Corporation.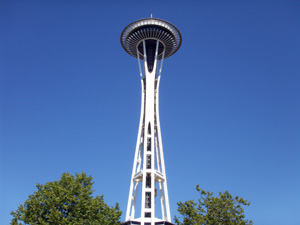 Once inside at the observation deck, you have some amazing views. To get a really nice view, there is a sign giving specific directions on what to do: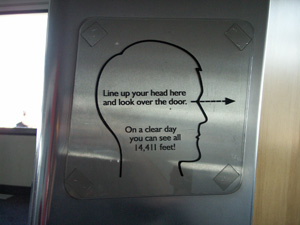 Once you line your head up against the sign per the instructions (yes I did it), here is the amazing city view: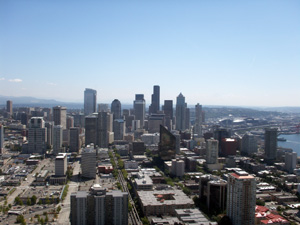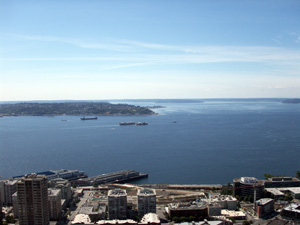 On the food front, we decided on the Saturday Brunch special which takes place from 9:00 am to 3:30 pm. What's really cool about having any meal at the Space Needle is the Sky City Restaurant rotates 360 degrees, so while you eat, the world actually does revolve around you: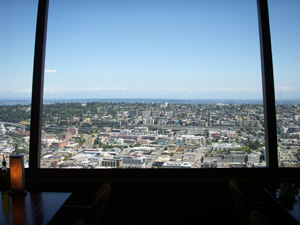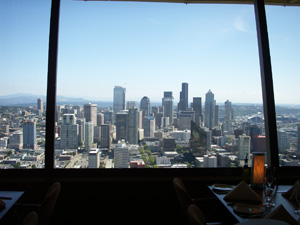 Both the food an view from the table was just amazing. If you ever come to Seattle, Washington, I recommend coming to the Space Needle. It's worth every penny.
I did pick up a couple of really cool shot glasses for my collection. Yes I know, I have so many collections of "stuff". It happens.
Tomorrow I'm checking into white water rafting. That should be an adventure for sure.
This entry was posted on Saturday, August 12th, 2006 at 7:56 pm and is filed under Photography, Travel. You can follow any responses to this entry through the RSS 2.0 feed. Both comments and pings are currently closed.